Which OS are You?
(Sssh, I'm not
really
transparent. It's just that blinding lack o' tan.)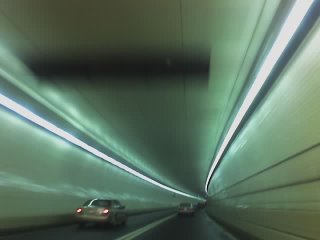 Back from vacation, but never ever back from the ocean.
Ocean City.
It's good to finally know where I'm supposed to live -
two blocks from this chilly ocean's boardwalk,
which calculates out to
an exact 180-degree welcomed shift away from
sweltering heat, cottonwood allergies and other
eye-damaging mau mau, and liquored-up
singing hobos wafting aroound you
and your daily downtown walks-turned-rushes.
All of which I've spent two or three lifetimes
almost growing accustomed to, almost.
But never ever quite fond of, and it's
definitely nothing more than a romantic notion
at best.
Ok. I live down by the river. But the Atlantic Ocean?
Oh yes, now
that's
what I've been looking for.
And, thinking more on it,
it wouldn't hurt my feelings at all
to keep going as far east as possible.
So east in fact that I may work my way back west.
This is all scribbled in the *good to know* margins
of my mildewy, tattered soul.
Of course, that stuffy nose could be from the cat
wrapping himself around my head and sleeping on my face.
It was nice to be missed, so thank you, Googie.
You swollen bag of marshmallows you.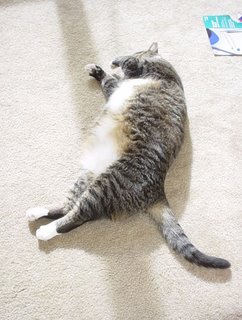 Nah. It's definitely the cottonwood.
And the hobo pee.
Man.
I have a zillion pictures to go through.
There are some nice ones, I'll show you.
Best part of the trip:
besides the fresh mozzarella at Piccini's,
besides Eve,
besides the salty, warm ocean air,
I listened to "Siddhartha (Unabridged)"
by Hermann Hesse, narrated by Firdous Bamji.
Slake that eternal thirst on your way to the banyan tree,
and
enjoy
this work of art forever.
No, really. Get it.
It's the bong-bong, noble sangha, total enlightenment.
And right when you and I both forget that I speak the g-dog...


No, really. Get it, and share it.
And happy (early) holiday to everyone.
Enjoy a sparkler or two.
Maybe something out of a can, maybe something on a bun.
And remember, kids, fireworks are fun.
But don't blow anything off that you might need later.
You're right.
That would look nice embroidered on a throw pillow.