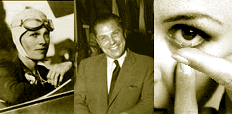 Amelia Earhart, Jimmy Hoffa, my left contact.
All gone without a trace. When you think your contact may have rolled its way up into your inner sanctum eye tissues, you'll realize a few things.
For me, I realized that (one) my parents need to move geographically closer to me for lots of reasons; looking into the depths of my bloodshot eye without gagging is a good enough reason. (Two) Don't roll your eyes when someone says something incredibly boring when you are incredibly tired, and (three) even though a professional told me it's not lost in my brain somewhere, I don't have the blind faith to believe him.
And, (four) I just came up with a really great idea involving bio-degradable plastic and runaway contacts.
You know exactly who your friends are when something is lodged in your soft tissues, and also when you move. That was the most crap I have lugged from one lodging to the next, and I couldn't bear to drag any friend through that. To all those who volunteered to help us move, my advance thanks to you was not taking you up on the extremely generous offers. Ron says you are all personally invited to a big house party in your honor, and strippers will be dispensed.
Note to Jacquie and Daniel: because you asked not once but twice if you could help, you will each get your own separate stripper apiece, no sharing involved. So thank you to everybody who offered arms, legs and trucks. Please come over and have a fruity drink soon, we now have filtered water and an ice crusher right in the door of the brand new mega fridge. I want to be buried in that Frigidaire.
To anyone who doesn't think logos aren't very important, for the record, the deciding factor for me and my appliances was not all-out practicality, but it was the cool, retro-throwback Frigidaire logo instead that made it all so.
Thinking back, we moved with eerie precision since last Wednesday night. It's probably because Ron's done this around 30 times, he told me. It didn't rain, it wasn't hot, so the only thing annoying was my moaning. But without that, I probably wouldn't get anything done ever. Uninterestingly enough, my feet are just killing me. I figured a certain vertebra or two in my lower back would've shot out across the room from the improper lifting at some point, but no. Just battered dogs.
I want to go home and sleep. That's not going to happen soon, but it's a nice dream. I'd like to just lie there and stare up at the ceiling fans and be mesmerized into Deep Space Nine. I'm happy. My cat isn't, but until he finds a job and starts coughing up more than hairballs, he will have to choose his attitude. Easy for me to say while he's at home now tearing down all the make-shift window treatments.
I'd like to thank my parents, too, for instilling the Fear of Bad Credit into my soul at a young age; otherwise this house wouldn't exist. And it's a really nice house, very familiar. Ron wants to name it. "No, if we name it, we'd have to keep it," I thought. There's my dad's genetics. As if I'm moving out next month or something. But we're not going anywhere by choice because I'm not moving that mega fridge across wood floors one more time. Oh hell no. I had to hide in the back while the oldest, tiniest, wiriest delivery man in the world wrangled it and stove into place. All across the new wood floors and not one, single scratch. I wish I could've seen it; but I know when to let the professionals do their jobs to completion instead of trying to do it for them over their shoulders piece by piece until someone jabs a fork in someone's eye.
Which is why I lost my contact today in the first place, and also why I went to the eye doctor for his opinion, which I actually feel better for taking than not. So much for today's recommended dose of irony.
Gee whiz. My feet still hurt. I hope I don't have to get them removed. That would be so inconvenient.
Tomorrow. See you.