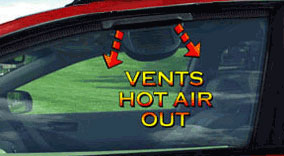 Oh, stop, you worry too much.


It's a fan that sucks the heat out of your car.
Well, yes, it is kinda tacky, but...well no,
you can't roll up the window completely anymore...
but it just leaves a
tiny
gap around it, so what?
Oh, it is
not
"just the perfect size to leverage a screwdriver."
You fill the tiny gap with the rubber thingies included, look,
you just stick them on...see? No big deal. Gosh.
Just think of how much cooler your car will be.
*
*
Without a window, without a stereo.