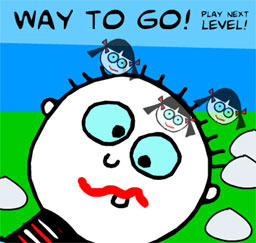 It's fun for a girl and a boy.
Smack him in the coconut! Bean him in the piehole! Pop him one good in the peeper!
Well, ok. Maybe it is more fun for girls than boys.
But after all the Dirt-clod Ambushes, the Dangling Spit Tortures, and the Run-by Fartings, you asked for it. It's the
"Throw Rocks at Boys"
game. Finally, huh? Brang it awn.