Some days just make you want to pick up and ax and start swinging.
Like today. It's not just because it's a Monday. It's not just because my shoes won't cooperate with my feet. It's because I spent the day putting out fires as deftly as a blind fireman. Not even important fires. Just various, small-potato fires. Which has now made me hungry for potatoes in general.
It's non-splendid days like today that make me wonder what the hell I was thinking in college. And also, if I were to pick up an ax right now, which one would I prefer?
The Woodman's Pal Axe
Offers superior productivity in all cutting and clearing tasks. 16" Long. Available with nonslip leather grip with thumb and hand guards or hardwood handle. Both models include Cordura® sheath and sharpening stone. Made in U.S.A.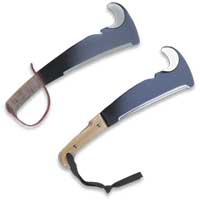 That would be great for clearing people out like undergrowth in the Amazon. But I like variety. Perhaps I'd have to go with the truly versatile-looking model.
MAX Multi-Purpose Axe
Incorporates seven basic hand tools into one compact, versatile unit: A Hudson Bay style axe head permanently attached to a 36" Fiberglass handle, with six quick-attach tools: shovel, mattock, pick, broad pick, fire rake and hoe. All components are drop-forged from high quality tool steel and fit into a compact olive drab canvas case that can be carried on a belt or strapped to a pack. Weighs only 12-1/2 lbs. Comes complete with all tool attachments, thumbscrew tightener, six safety hitch pins, leather axe sheath, canvas bag and heavy-duty cardboard storage box. Note: Replacement parts available. Call for details.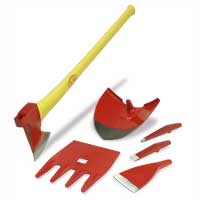 Rats. If only it had a corkscrew. Actually, I am comforted by the attractive simplicity of this one.
USFS Approved Pulaski Axe
Combination grub hoe/axe manufactured to USFS specifications. Designed for chopping, grubbing, and digging fire lines in brush-filled or rocky terrain. Drop forged, carbon steel, 4 lb. head prevents chipping and holds a sharp edge. 3´L Hickory handle.
Paint it pink, and I think we have a winner.