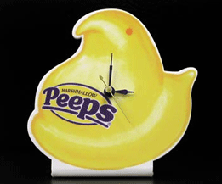 What time is it? Yes, children. It's Peeps Time.
Actually, I don't like Peeps. I would rather kiss Madonna than eat a Peep. But I always wished I liked them. And the Peeps Fun Bus is touring Memphis this week. I hope the Peep Fun Bus has air-conditioning. I've seen what a microwave can do to a pink bunny Peep.
The first time I tasted a Peep, I thought, "No. That's not candy. That's what goes inside candy, along with nuts and chocolate."
But I do like the merchandise
here
. I want the Peeps mousepad. It looks kinda like a Ouija board.
(NOTE: Don't look, Mike. Your Christmas/Bar Mitzvah present is on here somewhere.)
Now I'm fascinated with Peep Jousting, too. Luckily, I am not
alone
.