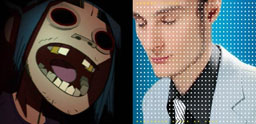 Ok, I admit it this time. I am dead.
In the past 13 days, I've died and gone to Hell; again; scratched and clawed to grab something that doesn't tumble; tried not to fall asleep in the bathtub; ripped out my shiny pink glossy nails dragging myself out of a filthy quagmire of confusion and frustration, hardly any of it mine; saw the same film clips again and again; shook a jar of murk and watched it settle; made my way into, through, and out of the bowels of Purgatory (well, ok so maybe I'll never make my way through and out of the bowels of Purgatory as long as I am alive this go; but at least from here I can see prisms of shining lifebeams shooting through the stinking rotted sails of a sad, war-torn ship):
Beam number
one
one and number
two
, three thumbnails over and three down.
Oh, and I had some sushi. It was very good.
By the way, can you feel someone looking at you? I can see you through the
keyhole
. Been traveling around, too. Guess where I went first. Yeah, you know me. Paris. I know they hate me there, but those big, round, soft sugarcookies dipped in dark chocolate and dunked in red wine are worth the looks and sneers.
And don't forget, I invite you to join the masses.
Stop by the
"i am middle-class" onlineshop
anytime, and fly your middle-class flag high and proud with me and the rest of the workaday world that keeps the bigwigs on-the-go in their expensive status symbol cars, dreaming of that next big browlift and a bottle of Viagra. This store was designed exclusively for you, for me, and all those other poor bastards who can't read Dilbert without thinking it's the horoscope for the day.
Unlike the gaudy, excessively-priced trendy tees offered at Neiman-Marcus for those Upper-Class Wannabees with zero taste fueled by a steaming heap of disposable income, the markup on these babies are truly-bare-minimal, a dollar here and there, only for the cause and to offset any middle-class costs of light imported beer and eco-friendly boxed cabernet.
While not guaranteed, these products should not make your butt look big. They might even diminish the appearance of tiny lines and wrinkles. And for tough stains, try the sweat of a freshly-squeezed middle-class worker. Kills bugs dead. Just do it.
Yours truly,
Your fellow Honda-driving consumer by design - La B. Monkie (made in China)