"Your Daily Dose of Irony"
But if it weren't for alcohol,
we wouldn't have all those
pesky tots
around
in the first place.
Mouseover and see the super-amazing,
nut-busting,
squirrel-crushing
bird feeder!
Take that, you fat bastard yard rat!
One more reason why I love Mamie and Stoli vanilla:
Yesterday, we mixed up a couple of fake drinks, the virgin type,
7-up and pomegranate syrup over crushed ice in gold-rimmed glasses.
We both took a sip, agreed it was good,
but pointed at each other and said simultaneously
"
yeahbutyouknowwhatthisneeds??
"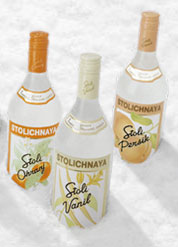 Oops, watch out though. That pesky alcohol
attracts the kiddies, so nevermind.
Full circle topic! Whoo hoo, good times.
Where did I park my car...