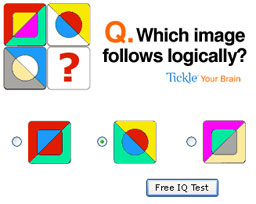 You have to sign up in the end, but what idiot couldn't figure that out, right?
Ok, so my IQ today was
113
. Damn you, Math: The ever-shrinking box on my beer-soaked brain. Seven more points, and I could've squeaked into the "Superior" category and felt good about that for about 11 minutes.
That's right, isn't it? 120 - 113 = 7. Okay. See?
Well, it congratulated me. Which is nice. And good because somedays I can't remember how to open a drawer.
It also spits out a synopsis with each score:
"Your Intellectual Type is
Word Warrior
. This means you have exceptional verbal skills. You can easily make sense of complex issues and take an unusually creative approach to solving problems. Your strengths also make you a visionary. Even without trying you're able to come up with lots of new and creative ideas. And that's just a small part of what we know about you from your test results."
Word Warrior!! GRAGGGGGG (raging forward) GRAGGGG (whipping sweaty, charging steeds) GRRRA-- (ack...swallowed a bug)
Well, it was fun while it lasted.
What the hell! Try
it
. You know deep down, you really want to -- it's fun. Besides, THE WORD WARRIOR COMMANDS YOU.