I've never done good things.
I've never done bad things.
I never did anything out of the blue (to deserve an iPod Mini). Whoa whoa.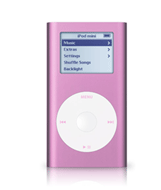 So why did Ron give me an engraved iPod Mini for an early birthday? maybe he's trying to kill me with joy. And it's pink, no less. I have no idea how I got so lucky sometimes. Plus, he's stocked the iTunes with figuratively mad chunks of musical happiness. He pointed to the remaining stacks of vinyl over there and said "that's going in next." Man. I love Sir Ron Mix-a-lot.
I wanted to christen shimmery Babycakes the Mini properly with The Buggles' "Video Killed the Radio Star" since that was the first music video I ever saw, which thankfully altered everything in me and around me like so.
But since I couldn't wait really, I had to do the only right thing and play the only other correct choice: Biz Markie's "You Got What I Need." Then some David Bowie. Squeeze. Plimsouls. Psychedelic Furs. OKGo. Police. They Might Be Giants, and so on. And I still have, like, over 3 gigs left to go.
Thank you, Apple in California. Thank you, China.
Ashes to ashes, funk to funky, we know Major Tom's a junkie.
Plus I added in Takako Minekawa's "Fantastic Cat" and (thanks to my new hero in New Jersey), Dragostea Din Tei's "Mi Ya Hee." Which completely fits into the past couple o' days-turned-weeks' theme of how I love good people who don't give one solid rat's ass and Just Do Things, comma and period. Kerpow. Now, everybody dance!
I'm stuck with a valuable friend. I'm happy, hope you're happy, toooo...
Thank you, Rrronnnn xxx ooo xxx