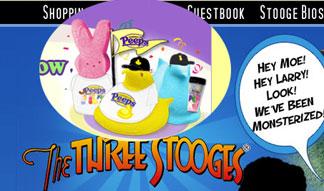 Breaking News: Mayor of Peepsville Bites Off Heads.
You love 'em. You hate 'em. Or, you just love to hate 'em. Ah yes, it's at this time of the year that all of our thoughts turn to
Peeps
. Oh yeah. And the
Easter Bunny
.
And
Peep Jousting
...
Peep Research
...
Lord of the Peeps
...
Do I like Peeps? No.
*
But for some reason, I really wish I did. I've got the screensaver. It's not like I haven't given Peeps a good try. But to me, it's an eternal mystery...marshmallow is just not a believable candy by itself. I just don't have that kind of faith in marshmallow. To me, marshmallow is an ingredient found
inside
candy, along with nuts, nougats, caramels and covered in chocolate. Or it's the stuff holding rice crispies together. I'm just sayin'. We all have different beliefs. But I am accepting of Peeps and people who believe in Peeps as a candy. Lord knows people spend $80 million yearly on Peeps. They
do
, too.
I always felt so ripped off when I got Peeps in my Easter Basket. So empty. Betrayed, as if somehow, this magical Easter Bunny just had no idea who I was and what I liked. "What is wrong with a simple Snickers," I thought. "Or maybe some Peanut M&M's...who
is
this bunny...and how does he hide everyone's eggs in one night...and how the hell did he get in my room...what is that stain on the carpet...where did this big bruise come from?"
Which only represents bigger problems I have: questioning free candy, and "suspending disbelief" I guess it's called. For example: I wanted to like the
3 Stooges
. I really did. Like Peeps, I'm not sure why I wanted to like them, but I did. However, even as a tiny kid watching these three guys rip all the electrical wires out of a wall, or dump flour on each other successively, all I could think of was, "Man. Who in the hell is gonna clean that up?" I didn't care if they beat each other with hammers. I just wanted to know who was going to refinish the water-damaged ground floor.
Anyway, it's all a mystery. Mysteries are good. Whether you really truly believe or doubt Peeps' existence as a candy altogether, Happy Spirit of PeepDay to everyone. Witness the miracle of how they completely resurrect themselves every year
here
in the little town of Peepsville.
*
Hey, I've got it. After all these years, here's my suggestion: Chocolate covered Peeps, preferably Dove chocolate. Ta daa. Oh yeah. And world peace. Almost forgot world peace...