"White people are crazy...crazy and
nasty
..."
- Raineesha Williams, Reno 911
I'm sure I'm just jealous or something.
Xaviera seems fascinating enough.
(I just shouldn't have clicked the "Related Pictures" photo.
Looks like a gross of canned biscuit dough exploded.)
I do like her earrings in her photo, though.
I have a similar fish charm hanging off me purse.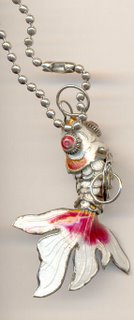 Still, people are insane to pay money to stand around naked.
That's where I must be jealous of this woman:
I must start my own
cult
.
Speaking of lumps, beer, and
webcams
...