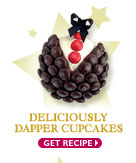 I misread this as Deliciously
Diaper
Cupcake.
That'd change just everything, wouldn't it?
I could definitely sell them for a hell of a lot more if so.
ps: No, I'm not throwing an Oscar party or
dressing up cupcakes with M&M's like a gaybait.
I normally don't go to the movies because,
besides such blockbusters as "Big Momma's Big Butt" and so on,
I'm too busy watching unclassic, crappy movies like
this
-
which, in most states, might make me more of a geek than a gaybait.
ps on that ps: Oh yeah, it was an excruciatingly
bad attempt at a movie.
My feet could have done a better job
puppetteering with toe socks and flip-flops -
which, in this case, gives me an idea...