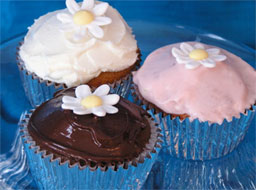 Today is National Cupcake Day!
Not really. It should be though.
I just wanted to show you these magnificent creatures at
sibbyscupcakery
gently lifted from
notmartha.com
. And also, I just like the word "cupcake." You can't hardly think about it or say it out loud without smiling. Cupcake. See? I'm a tired withered crabtree somedays but I just grinned. It's a
happyfun
word. Much like
clobberhead
.
yers truly --
Cupcake
C
lobberhead
.