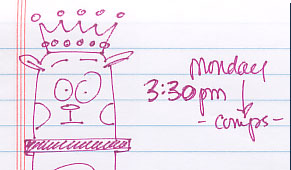 A friendly reminder:
Logo comps are due Monday. And the client hateyhatehates crowns, so do not include them.
Also, soon to come:
The breathlessly awaited
"Product Review, Product Review!"
of my super-special WalGreens shipment suggested by
Chip
.
The suspense has already weakened three innocent onlookers and nearly killed an old lady in Pittsburg, so I apologize for any fatal delay. Mooo ha haaa.