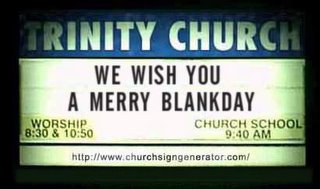 In my case, "Happy Birthday and Mad Props to the Big JC"
observed in this consumerists' year 2005 AI,
Annus iPodNanos. Amen.

However or whatever you may or may not
be celebrating or not celebrating,
deck those halls or haunt them.
Whichever makes the most peace.
Happy December 25th to you.
Today (same as every day except with a bow on it),
I wish you eternal happiness and love.
Eternal, I said. Infinity. So go, world.
Spread it around like chunky peanut butter.
*
Smooth, if you like.
*
Or soynut butter, if you're allergic to peanuts.
If you're allergic to soynuts, too, well...I can't think of anything
past unflavored gelatin, but you get the idea.