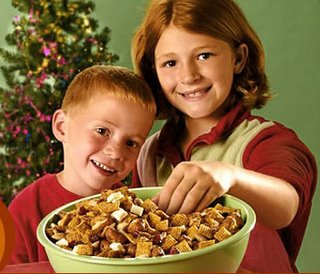 Back to the crushing grind.
And bored
already
? Ah, well.
I can't say I made it through unmarked, but at least I'm in one piece.
One horrific fight, lots of gifts, and a half knitted scarf.
Ah. Good times, good times.
And now, a public service announcement:
You think there is no help in sight,
and you think there is no way out.
But there is hope. In a bag.
You see, at Labmonkie Institute, we understand holiday feasting, and we're here to help you get back to that normal path of least resistance called "life." Our scientists have uncovered a breakthrough in treating those struggling with the crippling holiday feasting epidemic. Our doctors hold the key to a bright new future and your complete recovery. Endless research has shown, only one powerful substance can successfully treat this addiction:
Chex Mix: It's the methadone of the holiday feast addicts.
By administering small doses of The Mix every four hours around the clock, the DTs will pass. And you will come clean.
So if you or someone you know needs help,
call 1-800-CHEX-MIX now. We'll crack a bag for you.
And the ass you save just might be your own.
Because here at Labmonkie Institute, we care.
No, really.