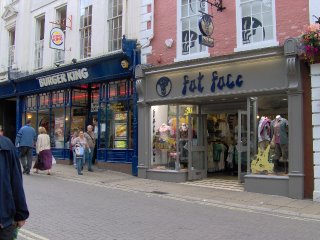 Email from my Austin Jackie to be shared.
Hey Woman! How's thangs? Had a good time in the UK with David and his family. Bryony has grown so much in a year.
Thought about you at the concert when one of the bands performing asked the audience how the sound was and someone behind me yelled out, "It's Rubbbish!!!!" Learned some new words from the locals too.
Great = Aces
Bad = Utter Toliet
Puke = Chundered
Surprised = Staggered
Amazing = Sheer Class
and I actually got to hear someone use this in context...Nancy Boy!
We were at a pub and the bartender asked if I wanted a half-pint (she nods yes) and then looked at Ned and said, "Now don't you be ordering a half-pint like a Nancy Boy!"
I can't believe those dirty underdrawers in that email you sent me!
That is HILARIOUS!
>>
>> London:
>>
>> What's better than pics of Big Ben, Parliament, The London Bridge,
>> The London Tower and Buckingham Palace?
>>
>> A snack vendor truck:
(It's incredibly touching you connected me
with someone yelling "rubbish."
"Staggered." Ha!
That is the recurring word for the day.)

Love you so, so much, girl!

ps, you've inspired me: only $200 and a few forms,
and my new name could be Nancy Boy.