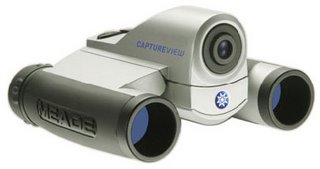 This won't be a shock to any of you, I know.
But on top of being a goob, I'm also slightly-nerd.
Not a smart nerd though. That'd be a geek.
I'm a nerdy goob, versus a gooby nerd.
Nerds are actually smart.
I don't know why anyone ever assumed I was smart.
Intelligent, maybe. But that's probably just a party trick.
Anyway, my mom's birthday was yesterday. So even though I knew
what she wanted for her birthday, there was no way
I could give her that. So I'm going to take the Amtrak down home,
distract her with red wine, a birthday cake,
and this
binocular camera
for her consolation present.
She has the most gorgeous backyard garden,
koi pond, gazebo, vegetable garden, you name it,
that she and my dad designed over a lifetime,
now home to some of the fattest wildlife I have ever seen.
Honestly.
I think she's a druid or a white witch.
The squirrels have giant, spreading, furry asses
and the hummingbirds growl.
We need pictures of those big squirrel cans
for those favored few googling into this blog,
researching raccoon feces photos, for the love of Malachai.
(You people, you fascinate and frighten me.
Seriously. Tell me why you do this.)
Anyway, really, I just want her to get a photo of the
albino cardinal
*
she has flying around her backyard,
for two years now. It looks like an angel.
I hope we get to it before the cat eats it.
It's certainly rare and juicy lookin'.
Anyway, nerdy goobs unite.
With red wine and cake.
*
Nnnnnnerrrrdy nerd nerrrrrrd.
Oh, who cares!
You do, you know you do.