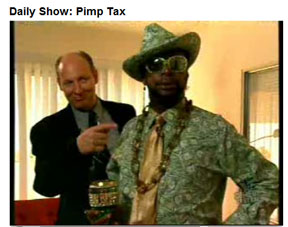 Go right on ahead.
Think I'm all stank-up on the meth, if you want.
But now that I think of the vast possibilities,
this job may be perfect for me.
Yes
.
I want to be a pimp.
One named Candy Beans.
For the clothing, the customized Rolls,
the hand-decorated chalice,
and of course, for the occasional beatdowns of prostitutes,
but again, only from time to time.
You know how it is.
I could contract out that beating gig though...
Well. This whole thought is just a working draft for now.
But I have to admit, it's either this or join the circus...
I'm sure I'd get more respect with a gold-plated Glock.
And to be honest, clowns are just so terrifying.
So really, the decision has been made for me.