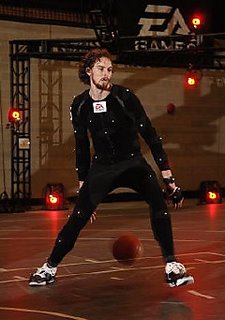 "It was just tight," Gasol said of the suit.
"It's supposed to be very tight to your body
to (simulate) motion without clothes. It was a little uncomfortable.
When you're moving and sweating, it's
hot
."
He's just a boy. He doesn't know what he's saying.
Otherwise he might have to charge by the minute.
Rorrwwr.
Pau, Pau, Pau...
Which reminds me,
the night after the Grizzlies were eliminated from the playoffs,
I was out drinking at Flying Saucer. Coincidentally and innocently.
Trivia night and all, y'know.
And on the way home as we walked by the patio of Swig,
I was blinded by two enormous, white hams.
Some blonde giant with glowing red lips and powerfully bullish features
was stretching lazily backward with his skull-crushing hands
behind his head, his biceps testing the tensile strength
of his short-sleeved polo shirt, maroon if you need to know.
Naturally, I didn't notice it was Jake Sackadoorknobs
*
until I passed him so then I just
had
to walk back
with Susan and pretend to
*find my dime...the dime that I lost...on the ground...right here...*
Just making sure it was him. It was.
And all I could think of (besides wondering whatever happened
to the Polish player they traded, and how he scraped the ceiling
when he crashed past me in the market, no doubt
searching for something as everyday as "2 sticks of butter")
was not his late-season performance,
or those massive, blinding cannons
which never impressed me unless used for sideshow purposes.
I was just bonded to a giant stranger in an instant,
knowing that we were doing the same thing with a night off:
drinking a stiff one. Maybe two.
Millions of dollars, fame, God-given talent, and glory separate us.
But give us both an
Itsy Bitsy Teeny Weeny Yellow Polka Dot Martini,
and we're old friends.
*

Respectfully, it's Tsakalidis.
I call him that not because
I'm taking hateful swings at his name,
just exercising good use
of my nicknaming skills
handed down to me through

the generations of Haplo H's. We do all roll like that.
Anyway,
"It was a fun experience," Gasol said,
"and something I'll always remember."
Pau, honestly, you're killing me.