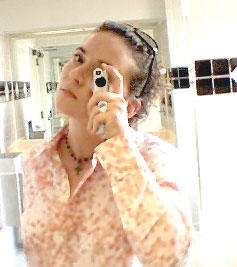 Heya, happykreg!


I see youuu.
(happykreg also had the distinct pleasure of knowing Larry Junior, too.)
Ok, who's ready for the 3-day weekend?
Now that I'm not going to the beach of any kind, I'd like to be going to a beach of any kind. I always think of these ideas way too late to do anything about them.
Good story, huh? Well, I'm just taking a break. I think I need some bridge mix. And a margarita. With a swirl of frozen sangria in it. And some sand. White, sugary sand to sit on and complain about it sticking all over places I don't want it to stick until the margarita eventually honed that annoying edge right off my jaded attitude. Then I'd sit on the white, sugary sand and see tiny shells. Shells so tiny you can crush them between your finger and thumb. Then I'd put on my big Mary-Kate (or is it Ashley) sunglasses, black of course, and look out upon the blue ocean like I owned it and wonder what the hell I was ever worried about. Then I'd read my Star magazine and wonder if, since he helped her pick out a 9-carat diamond ring for the premiere of that mr and mrs whatever movie, if Angelina Jolie is pregnant with Brad Pitt's baby, and then wonder who really cares about that garbage. Besides me.
For those of us staying home this weekend, possibly saving the environment one less gassed-up roadtrip at a time, take a little Earth-friendly trip into Carl Sagan-type scienceland, here:
Art of Science
"This spring we asked the Princeton University community to submit imagery produced in the course of research or incorporating tools and concepts from science. The response was overwhelming: more than 200 entries from nearly 100 individuals in 15 departments. We selected 55 of these works to appear in the 2005 Art of Science Exhibition.
"The resulting assembly of images presents a fascinating and beautiful cross section of the arts and sciences at Princeton. It celebrates the aesthetics of research and the ways in which science and art inform each other."