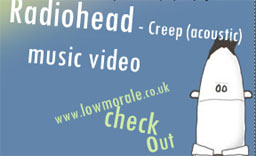 "I wish I was special/So @#$*in' sp3ci6l..."
Radioheadheads, monkeehub has an animated video or you, via Shaun'shead. Thank you, Shaun'shead, for the link.
Good grief, this monkeehub guy is amazing. See his lowmorale.co.uk/ and view the animation series at the bottom lefthand corner. My eyes have turned green with jealousy. Hey... they look pretty striking in green... Thank you, monkeehub!
And here's another kind of special when you get the chance: click the download to view. Thanks to Fishjack for the link!