Is it really Thursday?
Already?
Hm. Guess I'd better put the kettle on.
PG Tips, anyone?
I'm offerin'.
Hope to God I get my Gromit mug soon. Found it on eBay.
His nose turns red when you pour in the hot water for tea.
(I think I should've filed this monologue under the next subhead...)
I caught myself drawlin' baaaa-yad this mornin'.
Noticed it when I made the word "should" have
four syllables, with the "d" being the fourth.
Usually, that means it should be Monday.
I should consider myself lucky Friday's so near.
File this under
"Oh come on, you know you care, you do" category:


I'm going to my first
hockey game
tonight.
I'm not playing, but I can't say I won't participate.
I do like throwing things.
Sadly, I just had to look up who's playing who.
Unless it has a red maple leaf on it,
all teams just run together for me.
and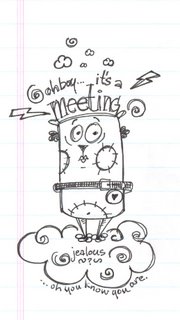 I think I might just start posting
all my scribbly meeting doodles here for awhile.
*
Those ones I do in the margins? Yeah.
You know you care.
*
Anyway, think "
gapingvoid
"
except not brilliant.



+++




And just when you think my day's truly pointless: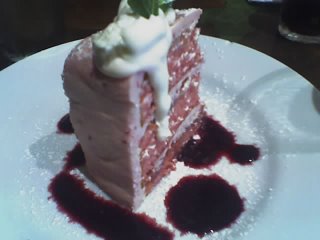 Automatic Slim's had an evil strawberry cake.
Don't worry. Michelle and I threw ourselves
on that pure butter grenade and killed it for you.
You are welcome.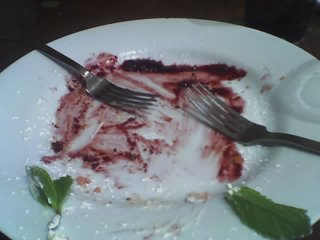 Being that the waiter
looked exactly like Jason Bateman,
I bet every day is a nice one,
but we wished him another anyway.