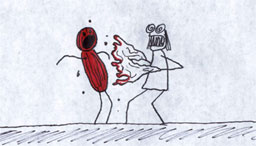 Merry Everything, Everybody!
I blasted out of Memphis on Wednesday morning, right before the giant ice storm hit. I'm visiting my parents 210 miles south for Christmas Eve, and now I'm iced out of Memphis til tomorrow morning. So alls I wanted to say was that I hope everyone enjoys the holiday season, one and all, Christmas Kwanzaa and all the rest. Big holiday peace-hug for you and please feel free to drop by for cookies and champagne when I get back tomorrow. Fingers crossed and chains on tires. Ma and Pop send their love.
And for you, from one of my favorite animators, I leave you with this present from
bitterfilms
.com. --
ah l'amour
.
I think this was his student film. Brilliant timing. Ah. J'aime Don.