Today's aphorism, and another useless tagline from the past.
"Bring a sequinned hat and make a little money. It's Memphis."
"It's not nice to fool Mother Nature."
It's one of those days when I have nothing to say. I mean, like, absolutely nothing to say. It'd be nice to have at least one thing to say, but no. I got nothin'.
See?
Oh well.
My great big fat cat scratched Ron on the eyelid the other day and he lived to tell the tale. Ron thinks it was because his eye was twitching in his sleep. I'm sure that twitch has nothing to do with me.
Behold. My great big fat cat: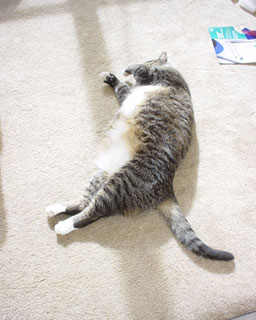 Besides eating and terrorizing an eyelid here and there, that's all he does. All day long. I wish I was my cat.
I told you I had nothing to contribute here today.
Nothing. And definitely nothing as cool as
this
. I will always love that little Fly Guy.
Oh well. Gimme a minute. Maybe I can think of something. Anything.
Nope.
Maybe tomorrow. Until then, spend some quality time with
Kyle
. Kyle is never at a loss for... whatever it is they call those things....