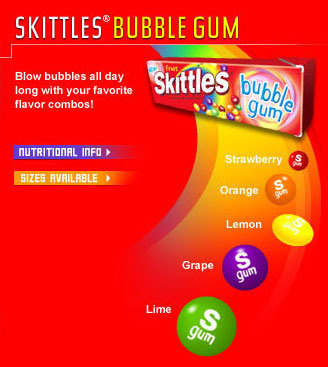 Hey! Product Review, Product Review...
It's neato mosquito
Skittles Gum
!
They look just like Skittles. They taste just like Skittles. But I completely forgot that I don't even like Skittles. I only like the red and yellow ones. I hate it when I forget stuff.
But try 'em -- they're intense at first, and they lose flavor a little too quickly, just like me. But that just gives you an excuse to shove one more handful in your mouth. I like gums that you can add to continuously like that. Except that I end up chewing the whole box and looking like a prairie dog. But that just adds to the entertainment value for everybody, now doesn't it?
What was I talking about? I forgot!
Happy Monday!