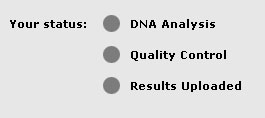 " A laboratory staff member uses a computer program
to assign scores to the samples. The computer generated
scores are then reviewed by two additional laboratory
staff members to produce finalized data."

I'm imagining the three went for one of those new
Green Tea Lattes at Starbucks.

Which, if no one minds me saying, is good at the first sip.
But then every sip after that tastes like corn.
Straight up maize, direct from the earth to your lips.

Try one today, and follow your friends around with it,
insisting after every sip, "Dude. This tastes like

CORN

.
I'm serious, try it. I can't drink any more."

And then, someone will offer you a taste of
their Blackberry Green Tea Frappuccino,
and you'll comment on how it tastes like
"something from IHOP,
something on the pancakes."
And they'll laugh at youbecause you're an idiot
who talks with its hands
when it can't think of simple words,
like "syrup."

Try it.
It's just so much fun.
No, really.


Bored yet?
Yeah.
Me, too.
In that case, try:
life in helsinki
Enjoyyy.