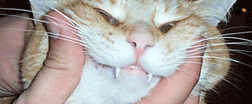 With the drastic changing of the seasons and the onset of Yellow Fever disguised as sinus pressure comes the serious look at why I'm fervently perusing
hating cat
pictures. Well, because they're funny. And because I never get to use the word "fervently". Besides, I like cats. Not all, but most. Why do people hate cats? I guess because cats do hate people. And because cats can be righteous little bastards. Like mine, who's taken to ripping at the new, damn carpet and yammering on through his kitty sinuses at 5 am every stinking morning these days. My brain is reduced to lime green Jell-O with a big crack down the middle.
I don't hate cats. I hate Jell-O. But
Jello Biafra
is good on occasion.